- PAGE FOUR -
20th February, 2009
More Canadian Holiday Happy Snaps ...
The second half of maxi's Plank Bed Experience in JG-Leathers' Whine Cellar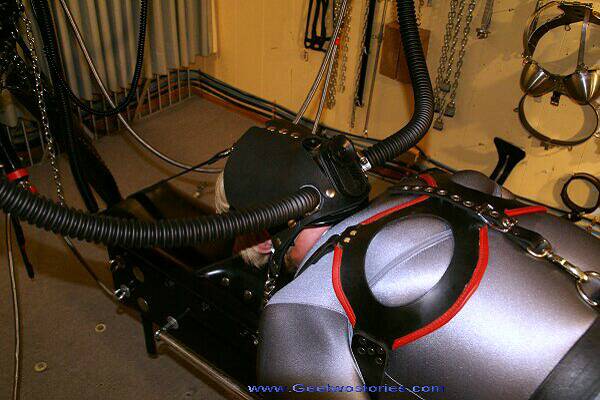 A partial isolation herd keeps her literally in the dark about what is to happen next. Note that the red and black open bra gives easy access to the breast zips of her suit, ready for installation of suction cups.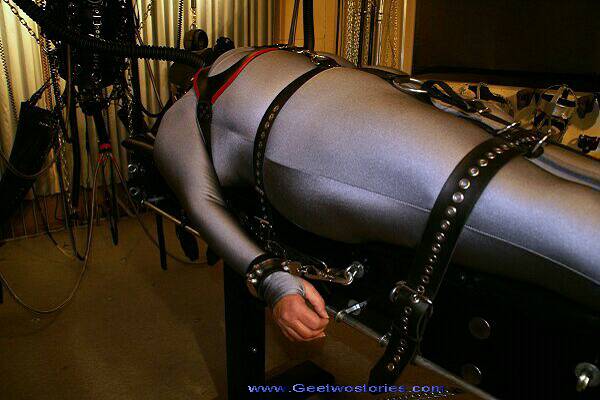 General view of her upper body restraints.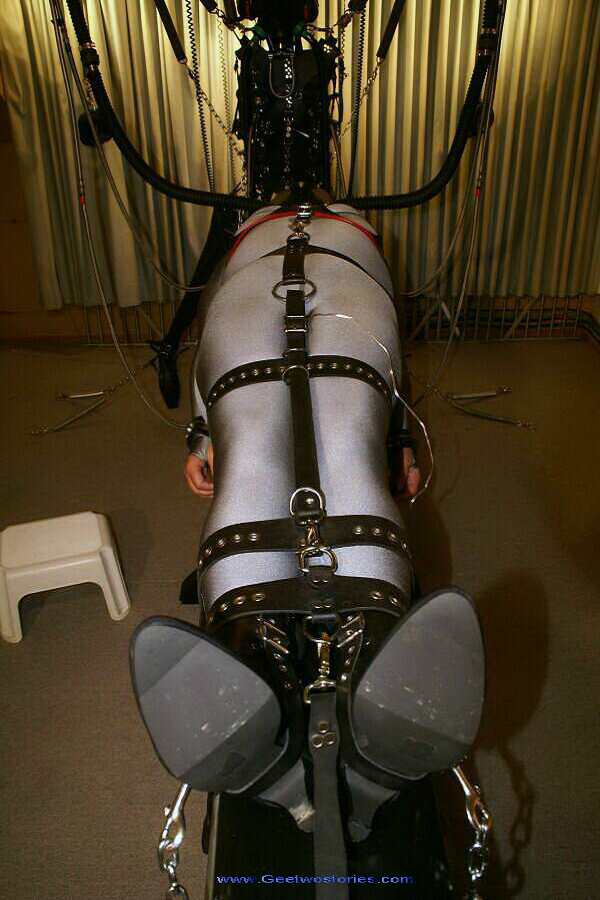 General view of lower body restraints.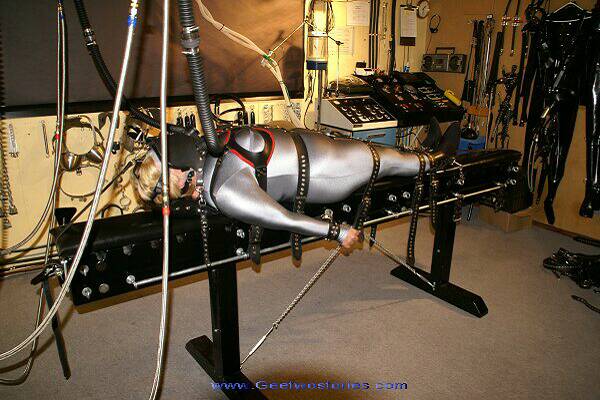 Overall view of the Plank Bed, with a small selection of JG-L's other devices and equipment in the background.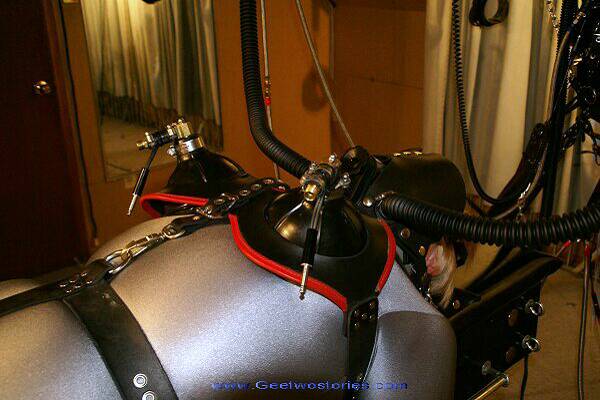 The breast suction cups fit under the bra and contain both vacuum and electrical stimulation connections.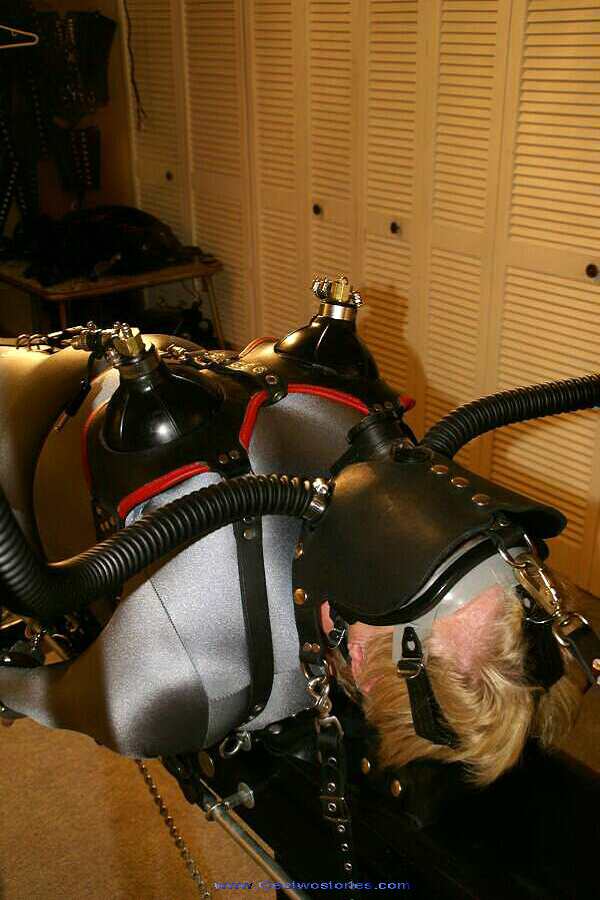 There is absolutely no possibility of escape or of maxi preventing what is about to happen.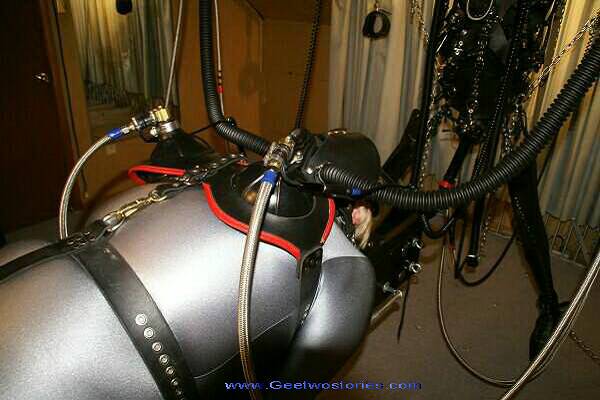 The vacuum hoses fitted, but not yet operating.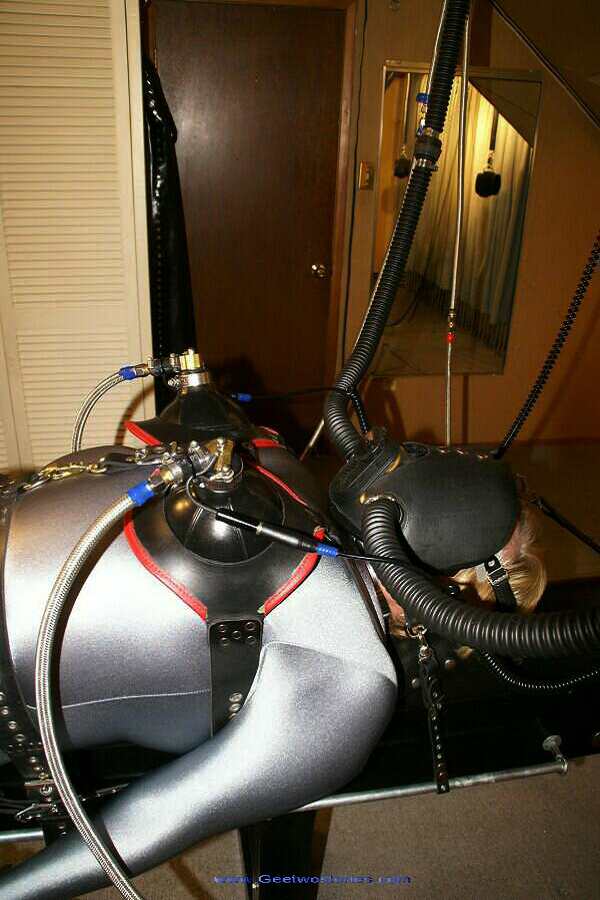 With the electrical connections in place and the vacuum working, maxi's sensitive flesh is sucked into intimate and unavoidable contact with the electrodes, subjecting her to an irresistible combination of carefully-controlled, moderately-painful pleasures that she can neither control nor escape.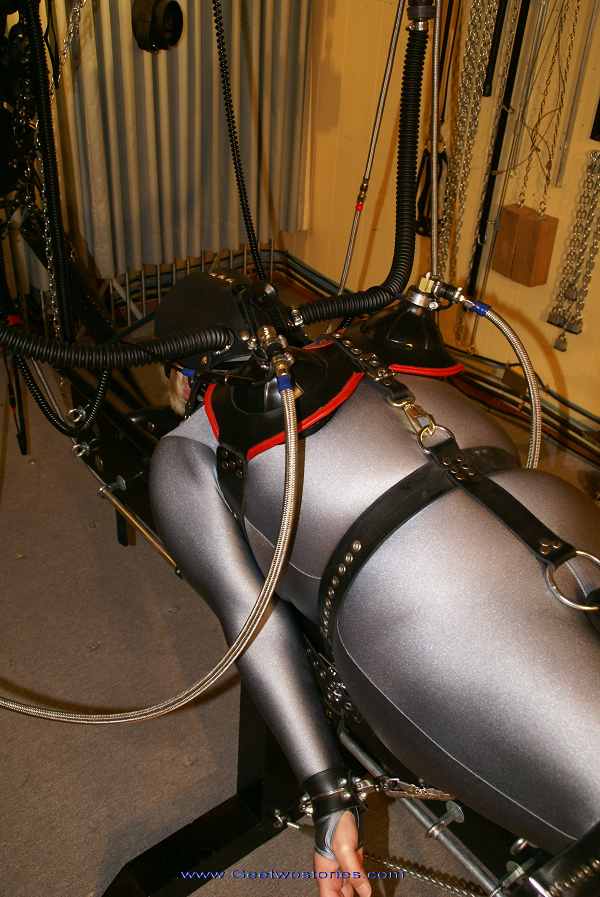 Shrill squeals and helpless giggles left us in no doubt that maxi was enjoying her helpless plight – most of the time….!!!!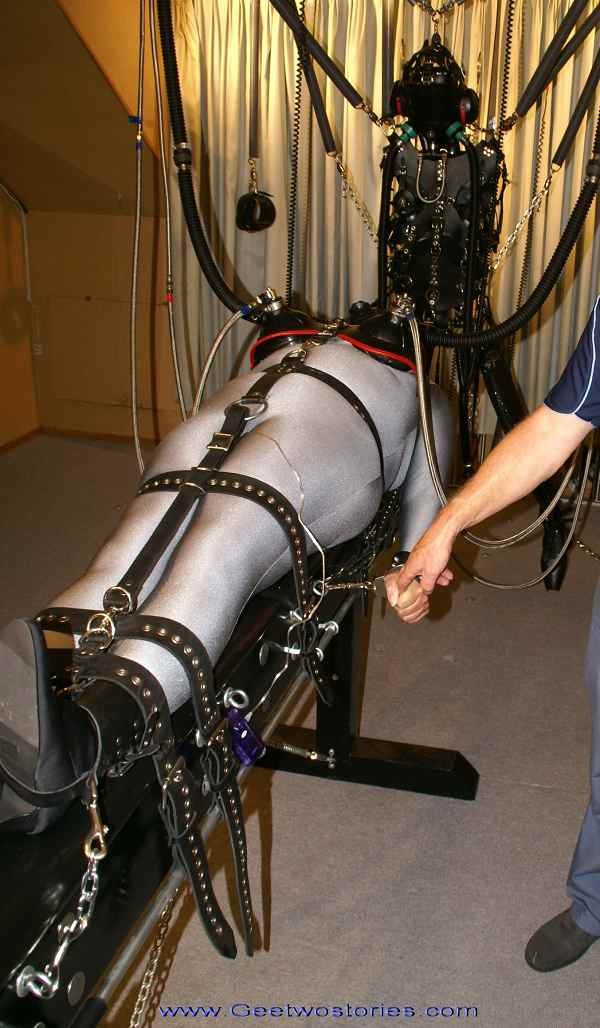 My fingers recovered fairly quickly from maxi's grip – a small price to pay for the pleasure of witnessing her loving submission to the torment imposed on her. The wire running over her thigh leads to a powerful vibrator lodged where it did the most good……..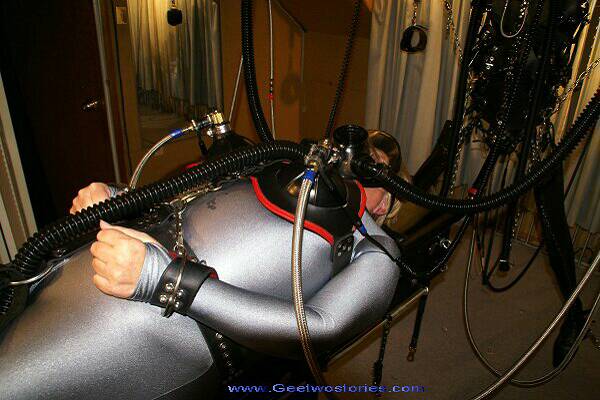 When her arm-muscles became stiff, a minor alteration to her restraints allowed us to continue.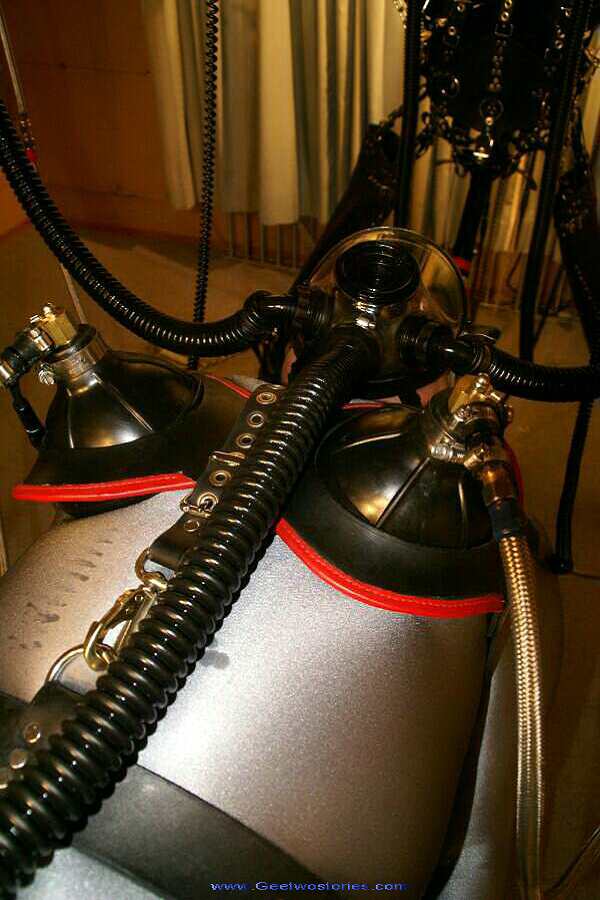 We changed her breathing arrangements, too, but it was still controlled by the ventilator.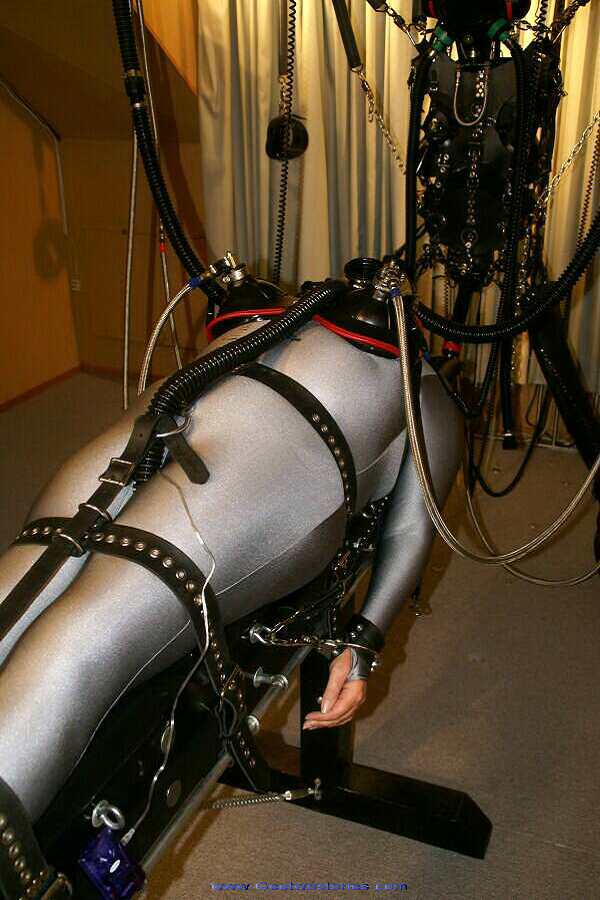 After a short recovery period, it was back to business.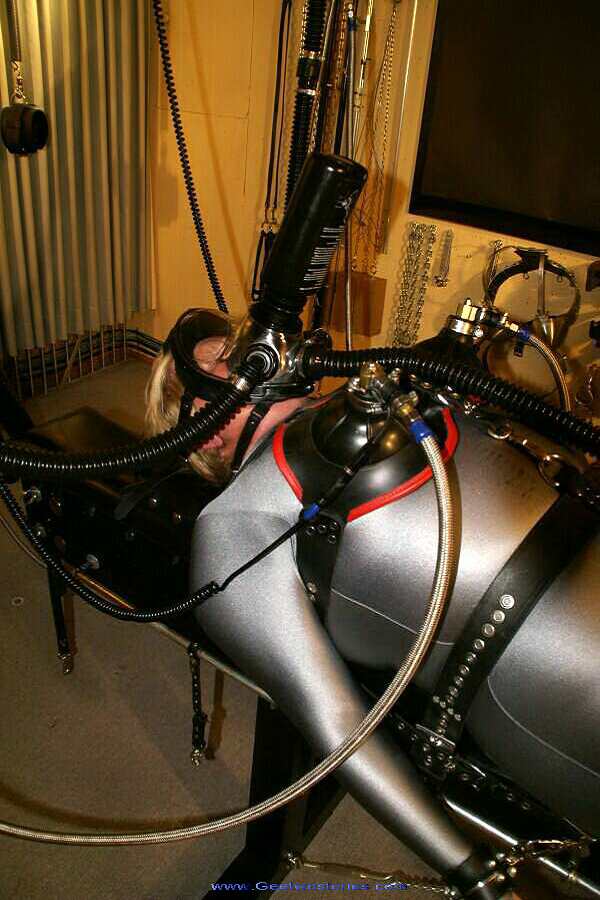 Fully restrained and re-connected, maxi tested out a feeder-bottle arrangement.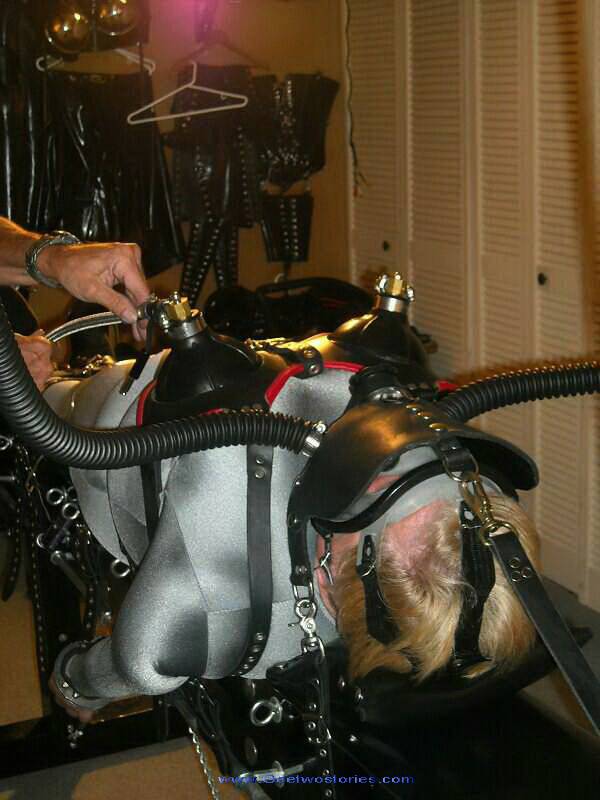 Maxi is an unashamed lover of masks and blindfolds, so we rewarded her with a final, short session in the darkness that always intensifies her enjoyment. I'm sure you will agree that she had more than earned it…………!!
*******************************


- SECTION INDEX -


- HOME -

SAFE SANE & CONSENSUAL