GEETWO STORIES - PAGE 025
- HOWDY, NEIGHBOUR! -
By
Geetwo
writergeetwo@googlemail.com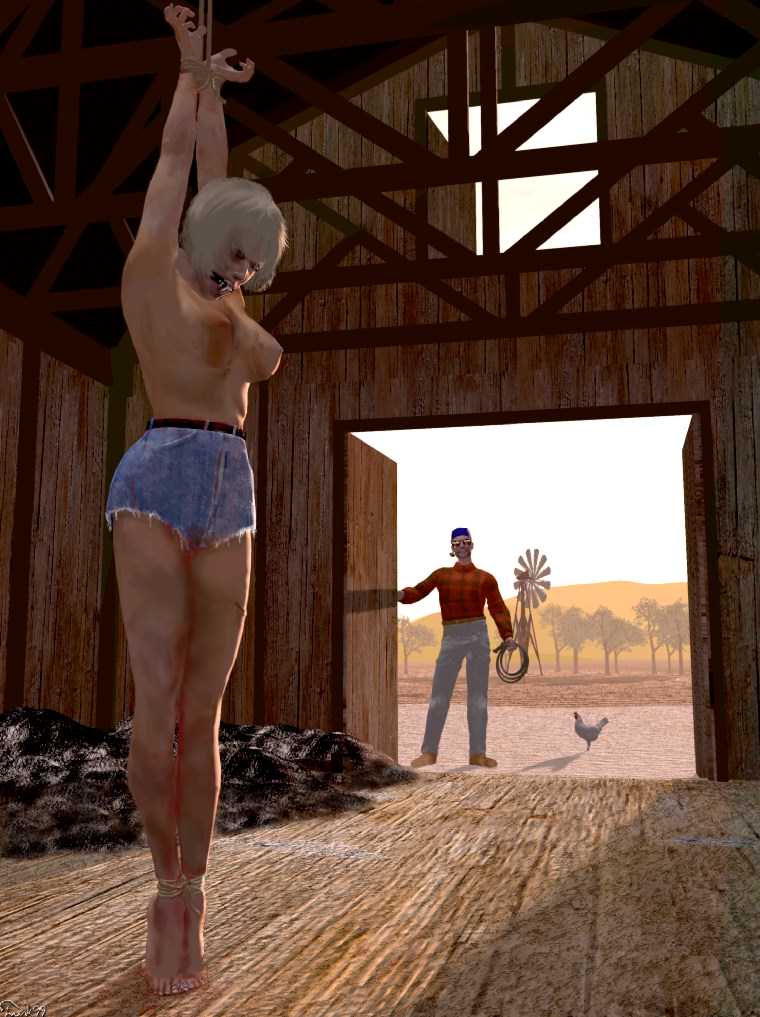 "Mornin', Betsy-May. Jake said I'd find you hangin' around in here and to be sure to look in and keep you company for a spell while he finishes off them new fence posts for the corral.
Hell, honey, you sure are dirty, but I gotta say it looks pretty damned good on you. And the way he's got you strung up, well, I sure ain't gonna complain about a bit of dirt. You look real fine to me the way you are all hung up like that, but what is it with you, girl? You know ole Jake can't be doin' with a mouthy woman, so why'd you have to go an tell him that you ain't no farm hand and that you wasn't gonna dirty your hands with diggin' no more holes?
"You oughta have learned by now that he don't take kindly to bein' crossed, but I guess you reckoned that he'd let you take a few liberties now, what with you bein' his new wife an' all. Seems you was wrong, though, don't it? That's gonna cost you. Around here, we got ways of dealin' with horses and women who ain't properly broke in.
"A few lashes from the whip works real well, so while we're waitin' for Jake, I'll just give you a little taste and see if I can't get you in a whole lot better frame of mind afore he gets back. Yeah, yeah, I know, honey, but it ain't no use you looking at me with those big, blue eyes.
"Like I said, out here, a man's gotta do what a man's gotta do and a woman who knows what's good for her, keeps her mouth shut and does whatever she has to, to keep her man happy. So unless you wanna get real familiar with the whip, you'd better be nice … real nice … to me and Jake when we let you down.