GEETWO STORIES - PAGE 028
ESCAPE ARTIST
By
Geetwo
writergeetwo@googlemail.com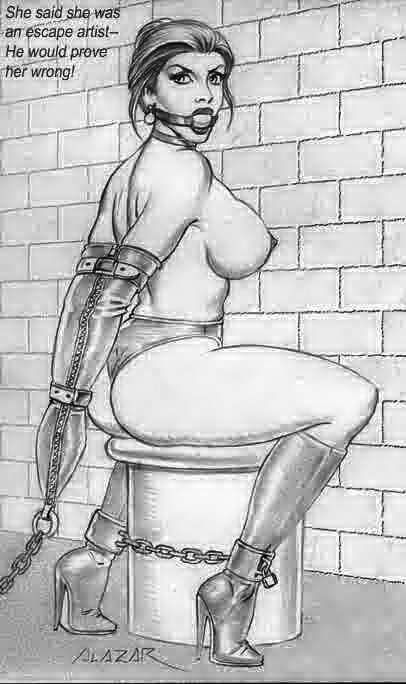 She boasted that she would easily escape from any tie he put her in and sowhen he took up her challenge, she couldn't very well back down.

The thick leather single-glove device with its heavy chain at the finger-end, came as an unwelcome shock because until then, she hadn't had any idea that he was into bondage and had assumed that he would use scarves or maybe some pieces of clothes-line.

With her arms strapped and buckled tightly behind her back, it was too late to change her mind and prevent him from padlocking her ankles into wide cuffs linked by a short, equally secure heavy chain.

Gagged with a hard rubber ball forced deep into her mouth, she began to worry that perhaps he knew a lot more about tying her up than she knew about escaping ...

Using scissors, he stripped her down to nothing more than her flimsy panties, joking that he needed to check that she didn't have a key hidden in her clothes.

When he lifted her onto a low, wide stool and chained her arms to a ring in the floor behind, forcing her to spread her thighs wide open and ensuring that she couldn't get up, it dawned on her that he had a great deal more in mind than simply challenging her escapology skills.

Quite how much more became clear as he showed her a narrow steel collar with the word, "SLAVE" etched into the metal and fastened it snugly around her neck with yet another padlock.

Maybe she shouldn't have told him that she was new in town and didn't know a soul other than him ...?

She just hoped that he was as nice as he seemed, because it looked as though she was going to be staying quite a while ...