GEETWO STORIES - PAGE 048
- PATTIE'S PEDESTAL -
By
Geetwo
writergeetwo@googlemail.com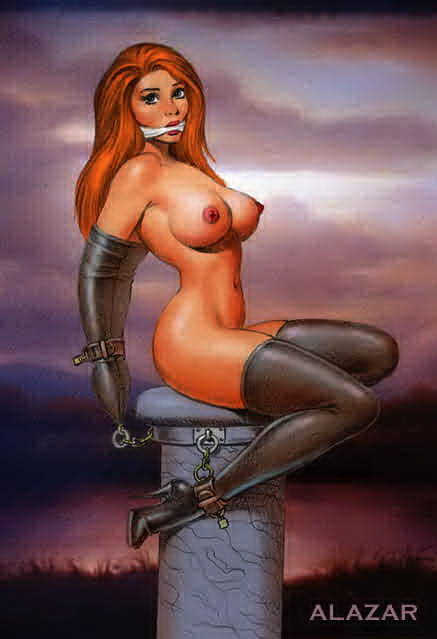 Patty's new boyfriend was handsome, rich, a fit, athletic lover and extremely generous. Since meeting him and moving into his huge country mansion a month later, he had always made certain that Patti had the very best that money could buy. The best food, best wines, best clothes, best jewellery, best car. Everything of the highest quality, regardless of expense.

The same standard applied to the outfit that she was wearing now. An outfit crafted to her precise measurements by the top bondage equipment manufacturer in the country. The thigh-boots of soft, skin-tight black leather, tipped by six-inch heels that arched her feet. The single-glove that clamped her arms from finger-tips to well above her touching elbows in a polished column of leather matching her boots perfectly. The reinforced cuffs that encircled each of her ankles and the strap around her wrists. All expensive, but well worth their price.

The pedestal, seven feet of solid marble, would also have been costly when it was erected in the 1870's and stood outside the window of his study, looking exactly as it always had, apart from the addition of three steel ring-plates just below the slightly domed top. And, of course, the naked figure of Patty perched atop ... With her shoulders pulled back by her imprisoned arms and the ring at the lower end clipped to the rear plate on the column, her breasts were prominently displayed, and with her lower legs bent up and back to the rings on either side, her thighs were unable to close enough to conceal the pink folds of her sex.

She made for a most entertaining and stimulating view from where he sat at his desk and it was good to know that all he had to do was open his window to have easy access to her delightfully offered body. Mind you, from the look of that sky, there might be rain in the offing. Perhaps he ought to send someone out to release her and fetch her inside before she got soaked. After all, high-quality bondage equipment wasn't cheap.