GEETWO STORIES - PAGE 065
- THE SLAVE GIRL EXPERIENCE -
By
Geetwo
Art by Grigbertz Gallery
writergeetwo@googlemail.com
A bondage-themed spoof based on the ever-more exotic holiday adverts cluttering the TV and magazines.
****** ADVERTISEMENT *****
INTERPLANETARY TOURS PROUDLY PRESENTs "THE SLAVEGIRL EXPERIENCE"
BOOK NOW FOR THE HOTTEST TOUR IN THE UNIVERSE!
* SEE LOVELY YOUNG WOMEN STRIPPED AND CHAINED AS SLAVES!
* SELECT YOUR PERFECT WOMAN AND LIVE-OUT YOUR GREATEST FANTASIES!
* ENJOY THE PRIVATE SERVICES OF YOUR VERY OWN FULLY-TRAINED SEX-SLAVE!
* PURCHASE YOUR FAVOURITE AND BRING HER BACK WITH YOU TO AMAZE AND DELIGHT YOUR FRIENDS!
* ALL LEGAL REQUIREMENTS COMPLIED WITH – FULL OWNERSHIP CERTIFICATION!
* ABSOLUTE AND UNCONDITIONAL SATISFACTION GUARANTEED!
* "THE SLAVEGIRL EXPERIENCE" - THE GREATEST HOLIDAY IN THE GALAXY!
* BOOK NOW! BUT HURRY! PLACES ARE LIMITED AND TICKETS ARE GOING FASTER THAN LIGHTSPEED!
*****************************
BACKGROUND TO "THE SLAVEGIRL EXPERIENCE" TOUR PACKAGE.
The remote world of Torisa is the only member of the Union of Planets to be governed solely by females administered by a Council and presided over by an elected Queen.. Its economy, policies and laws have adapted over centuries to meet its unique conditions.
The reason for such a system lies in the twin facts that no male from elsewhere may remain on Torisa for more than half a planetary year without succumbing to an unknown, untraceable and untreatable malaise that invariably ends in death, should the sufferer not leave. Even though Torisian males can survive, there are few of them, for female babies outnumber male births by thousands to one.
Given the extreme imbalance, men enjoy a privileged sexual position and are rarely refused by any women with whom they desire to share their seed, but this comes at the cost of being excluded from any positions of political power. It is an arrangement that has brought generations of peace to Torisa, a peace aided by laws that prohibit all weapons except knives required for work purposes and ceremonial swords.
For the great majority of both men and women, the rule of the Council and their Queen is just, equitable and beneficial; the laws affecting them little and allowing them to prosper unhindered, but for some on the planet, one of the laws has a very different application. It is this application that makes "The Slavegirl Experience" the fabulous, once-in-a-lifetime holiday that will never be forgotten or equalled!
Enshrined in centuries of tradition and rigidly-enforced by succeeding generations, the original justification for the ancient law has been lost in the mists of time ... but its consequences continue to pervade every aspect of the daily life of those who fall foul of its implementation.
"Upon reaching the age of 18 years, the inescapable fate of any woman failing to reach the minimum statutory height specified within these articles shall be stripped of all legal rights and protections and thereafter, for the remainder of her life, be deemed to be a common slave.
"As such, she may be claimed as property by any Torisian citizen and used for whatever purpose required of her, with no means of recourse or appeal. She may be kept, or sold, given away, or shared with others at the whim of her owner."
Heavily-chained and collared, many are kept naked or permitted only the briefest of coverings and may refuse no order given them by their owner or any other free man or woman, Torisian, or otherwise. With any disobedience leading to punishment, it is, therefore, in their best interests to be pleasing and it is rare that a slave will dare to risk the painful consequences of failure a second time. Her only defence is perfect obedience and service, whether at work, in her domestic duties, or in the bed of her owner and it is this that has had the unforeseen, but economically beneficial effect of bringing large numbers of wealthy visitors from other planets to Torisia in search of an ideal servant, slave and sexual partner ...
HERE BELOW YOU'LL SEE SOME GENUINE AND UN-RETOUCHED IMAGES FROM OUR PREVIOUS TOURS!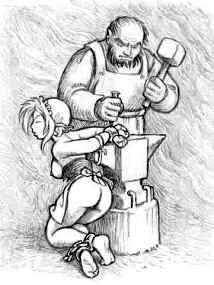 A peasant girl receives her manacles and knows that she will soon begin her service as a slave.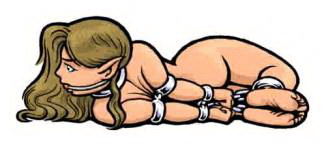 Heavily restrained and gagged, this slave awaits transport to her owner's home.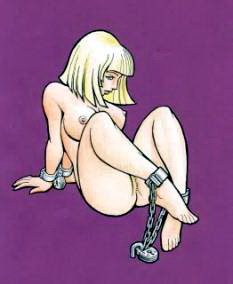 A simple and very secure tether which still allows the slave to be spread for full access.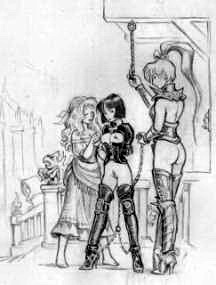 This slave is being leashed to one of the many display rings in her town and put up for sale or exchange by her female owner, a common occurrence when owners become bored and decide that it is time to acquire a new "toy" to amuse them. The blonde maidservant is also a slave, as indicated by her bare feet, but needs her arms and legs to be free in order to minister to her Mistress and any other slaves she may possess.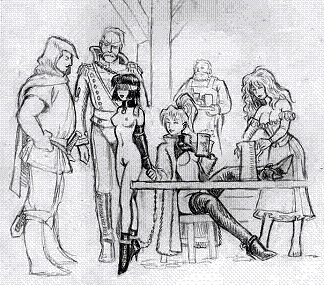 Attracted by this nude, blindfolded slave, these two rich, off-world males may, perhaps, decide to make an offer for her. If a satisfactory deal can be struck between them and her owner, she will have no choice but to leave with them and submit to their demands, quite possibly before she is even permitted to see their faces. No doubt the serving wench is relieved that their attention had been distracted, for her body comes with the price of the ale she serves.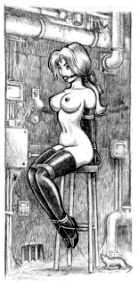 In order to avoid the possibility of enslavement by a stranger, some girls agree to submit themselves to the bonds of their best friends or lovers, in the hope that full slavery will not be imposed upon them. This pretty blonde has chosen this course and can only wait to find out whether it was a wise decision, for she is no longer their equal, but their slave.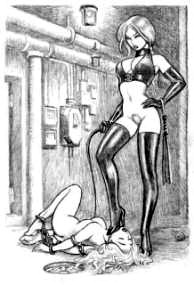 Too late, she realises that her choice was a poor one, but there is no way back. Her best friend ... her owner ... clearly relishes her power and will spare no effort of chain or whip to transform her into a perfect, obedient, thoroughly-disciplined and totally submissive slave for her amusement and pleasure.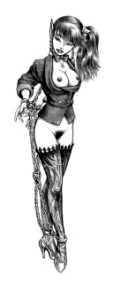 Yesterday, she was a respected businesswoman ... today, she is a chained slave and the smart jacket, stockings and shoes that were so recently the uniform of her success, are now only mocking reminders of what she has lost for ever. Claimed by her former business partner after a re-measurement carried out at his instigation, that found her to be one echt (a Torisian figure equating to just under two millimetres) below the minimum height requirement, she knows that when she is taken back to the office, she will have no choice but to obey and serve him as well as any and all commands given her by those who were formerly her employees and subordinates.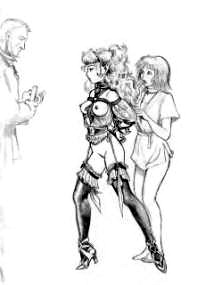 The law applies to all, equally and there is no defence or escape. This high-born daughter of a senior member of the Council is no exception. Chained and collared on the orders of her own parent, she is to be sold at auction and as her distraught personal slave delivers her to the public auctioneer, she tries to maintain an air of haughty disdain. Such foolishness will not long survive her sale as she is taught that her aristocratic birth and upbringing count for nothing and she learns to submit without reservation.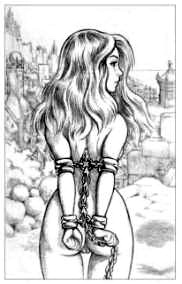 The decorative chains and manacles that bind this slave show that she is the property of a wealthy owner and suggest a relationship deeper than is usual. If so, she can consider herself fortunate, but would be unwise to think that this gives her leave to be anything other than perfect in her service, for an owner's whip makes no distinction between degrees of slavery.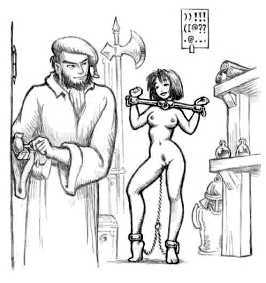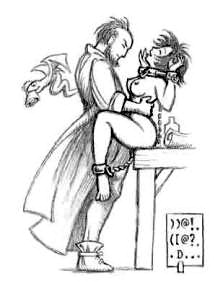 Bar-manacles, combined with ankles cuffs and hobble-chain, are a popular and efficient method of restraining a slave, providing both complete security and total access to all parts of the body. It is also a most elegant tie and to an experienced, well-trained slave such as this one, provides the opportunity for her to tantalise and excite her owner with the display of her own erotic and absolute helplessness.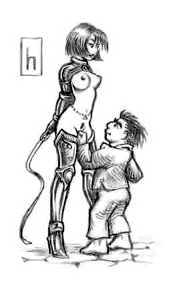 Despite her own lack of height, this slave towers over an off-world visitor ... but wealth overcomes all such barriers and she dare not attempt to resist his humiliating inspection, for he may soon be her owner and the sole arbiter of her fate.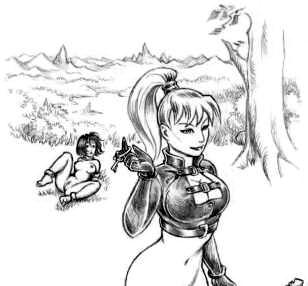 Frog-tied at the side of the road, this slave watches her owner walk away, not knowing whether she is simply the butt of a cruel joke and will be rescued before a passer-by discovers her ... or whether she has been found wanting and abandoned to whatever fate may befall her. If it is the latter, she will become the property of the first person to find and claim her.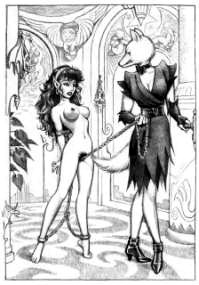 Sold to an off-world female owner and led naked through the streets on the end of a chain leash passed through between her thighs, this slave now understands how vulnerable and helpless she is and how easily she may be punished for even the smallest fault.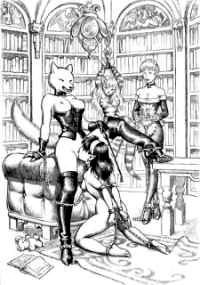 Chained on her knees, leashed and under threat from the whip, the new slave learns the skill of pleasuring her owner. Soon, her service and obedience will be as perfect and automatic as that of the other slaves witnessing her enforced submission.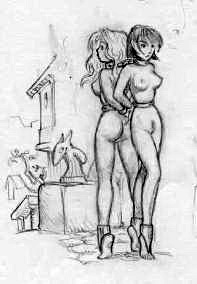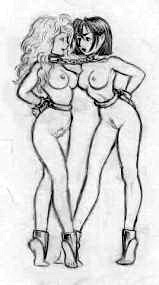 These two slaves were once bitter enemies, their rivalry so deep and poisonous that each planned to enslave the other on her eighteenth birthday, both believing that she would meet the legal height requirement, while the other would not. Despairing of the feud, their friends united in secret to put an end to it and when both failed the height test, enslaved the pair and chained their collars together, adding tip-toe training cuffs to their ankles as a permanent reminder to them of their destructive antagonism. Now, they must cooperate, whether they like it or not and their friends live in peace, enjoying the services of two obedient slaves whose rivalry is confined to attempting to outdo the other in the provision of sexual pleasure to their owners.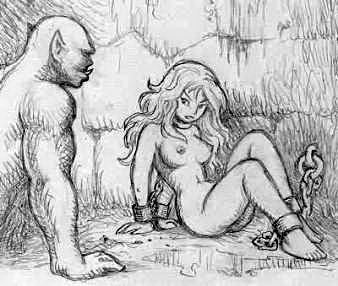 This male visitor from one of the high-gravity planets possesses far greater strength, stamina and endurance than any Torisian male. The slave is clearly aware of this and knows that her ability to submit to his sexual prowess will be tested to its farthest limit.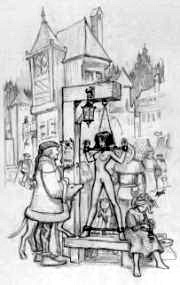 A Torisian father wishes his daughter well as she is chained to the auction block. He will have fathered many children, with many different mothers and hopes that she will be purchased by a kind and considerate owner, for in the eyes of the law, she no longer has a family or even a name and is merely a chattel.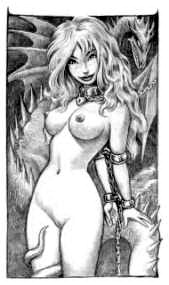 The dragon is the work of a famous Torisian artist and sculptor, but the slave is real. Patrons are encouraged to experience the contrasting textures of the dragon's hard, scaly skin with the soft, warm resilience of living flesh.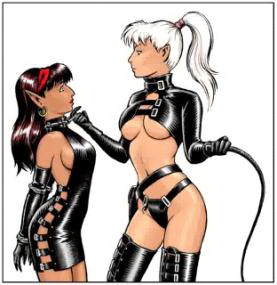 All owners demand instant, unquestioning obedience from their slaves and although the pretty brunette must be a great favourite to be allowed such unusually concealing clothing, the stringency of her bondage, the collar on her throat and the humble submission in her eyes as she gazes up at her dominant Mistress, clearly demonstrate who wields the power ... and the whip ... in their relationship.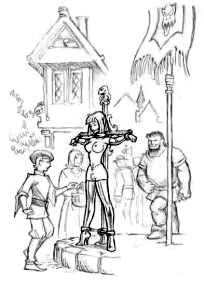 Testing the sexual responses of his prospective purchase, this young male seems satisfied that her gag-muffled cries and the frantic clawing of her fingers as he toys with her breasts and sex, indicate that her body contains sufficient passion to ensure her complete submission as his slave. Calling over the muscular slave-merchant, he completes the transaction and when her wrists and elbows are chained behind her back, he snaps a leash to her collar and leads her away with her ankles still held wide by her spreader-bar, announcing in a loud voice that her days of teasing and tormenting her cousin are over and that she would be wise to serve him well, for she now belongs to him.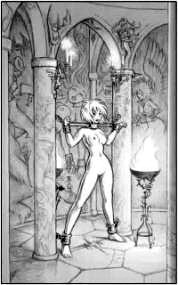 Chained between two pillars in the entrance-hall of her owner's home, she is the first sight that greets a guest's eyes, her naked, helplessly-offered body promising endless pleasure when, as is customary and expected, they are offered her use.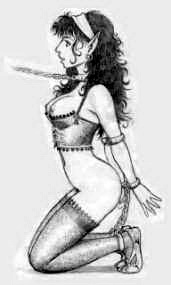 This new slave is being taught humility and the art of pleasuring her owner with her lips and tongue. She cannot rise from her knees and will be punished if her eyes stray above the waist of her owner or any free person. Only when her obedience is unhesitating and her oral skills deemed fully satisfactory, will her kneeler-chain be removed.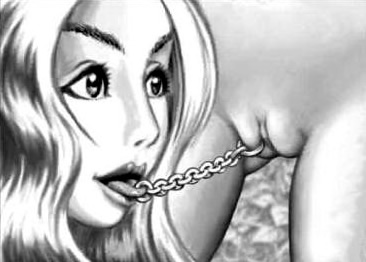 Tongue-to-labia piercings and a short chain make for a highly effective method of overcoming a shy slave's reluctance to engage in oral pleasuring, without recourse to punishment or a whip ... although these, of course may still be brought into play if needed.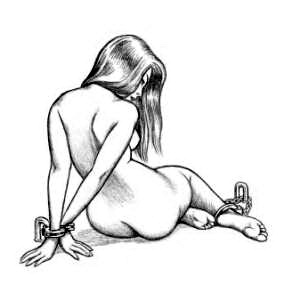 Temporary locking shackles secure this captive until a blacksmith can be summoned to rivet her permanent manacles in place. A simple two-pin key would free her, but she has been stripped to check that she has not secreted one in her clothing. Without it, there is no escape and no hope of avoiding a lifetime of slavery.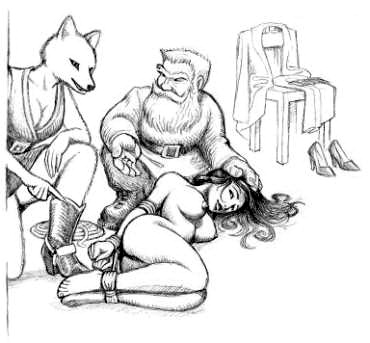 Not all females who fail the height requirement are unwilling to be enslaved ... some, like this young girl, find the prospect of being collared and chained for the pleasure of an owner an exciting and desirable one. To judge from her expression of pleasurable anticipation and the fact that she has folded her clothes neatly before allowing herself to be bound, suggests that she is far from being unhappy at her situation. Soon, she will discover whether the reality of permanent slavery lives up to her expectations ...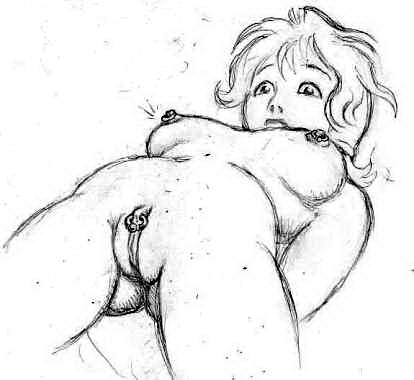 Many owners choose to adorn the bodies of their slaves with rings. This girl has been pierced and fitted with a basic three-ring set to enhance her appearance, display her subjugation and provide convenient anchorages for securing or leashing her. Other rings may, of course, be added if her owner wishes.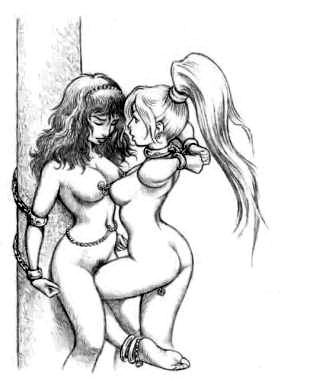 This blonde slave appears to be enjoying herself and taking full advantage of her temporary power over the hapless brunette. Even with her wrists locked to the rear of her collar and her nipple-rings connected to those of her "victim" the blonde is in charge and has found a way to entertain and amuse herself until her owner returns.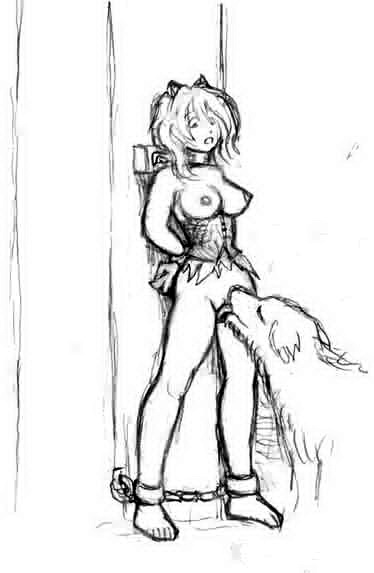 An amusing incident – for any passers-by or onlookers, at least - at one of the many slave-posts where owners may secure their property while they conduct business.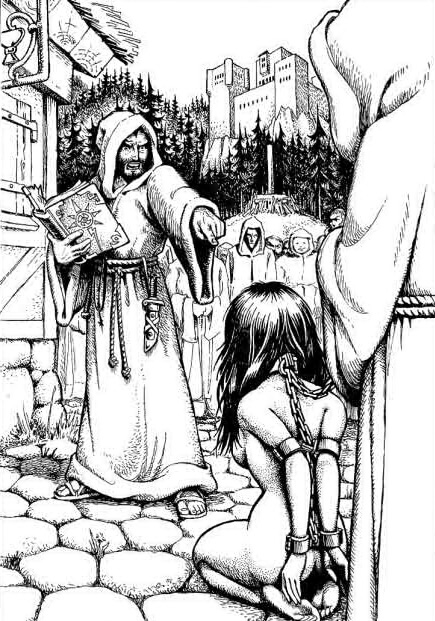 Realising that she could not pass the height test, this young woman tried to hide in the grounds of a religious order, knowing that no-one would dare to look for her in such a place. Unfortunately for her, hunger drove her to try to steal food from the kitchens and she was captured. Now, on her knees before the High Priest, stripped naked and heavily chained, she hears herself condemned to be sold at the next public auction in her own home-town.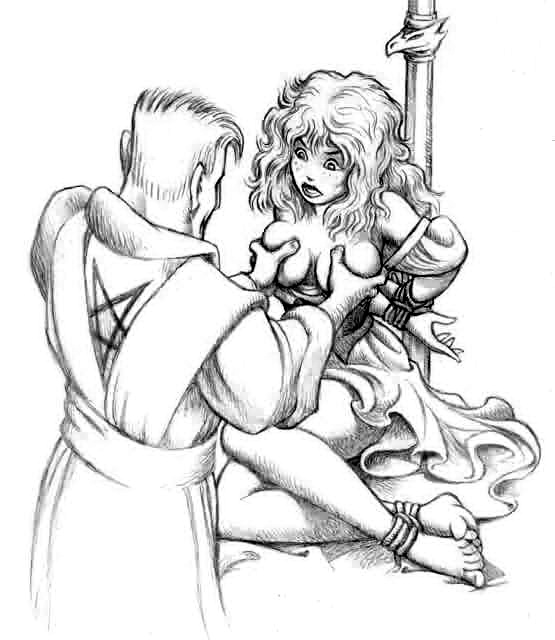 A slave-merchant tests the quality of the goods that he will be offering for sale. The girl is clearly alarmed and humiliated by his casual assessment of her suitability and value, but when she is collared and sold, will soon come to realise that her body is now her only asset and that if she wishes her slavery to be as easy and comfortable as possible, it is in her best interests to use it to provide any and every pleasure her owner desires.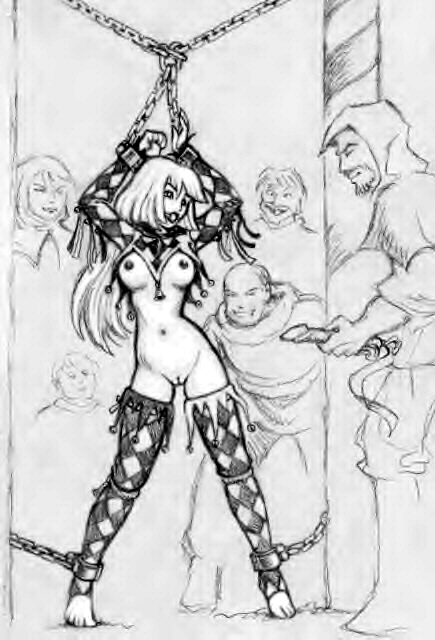 Circuses are a very popular form of entertainment on Torisia and this pretty slave, purchased by the owner of one such touring show, is being used as living advertising to draw a crowd, her brightly coloured clothing, heavy chains and exposed vulnerability helping to sell tickets and ensure a full house for the next performance.
With her advertising duties complete, she is re-chained and fitted with a full head-harness and bit, ready for her appearance in the circus ring where she will have to pull a cart driven by the whip-wielding Ring Master and accompanied by the troupe of circus clowns. The expression in her eyes suggests that she isn't looking forward to being paraded around the ring as the butt of the clowns' humorous pranks – still, if she can't take a joke, then perhaps she shouldn't have joined the circus ...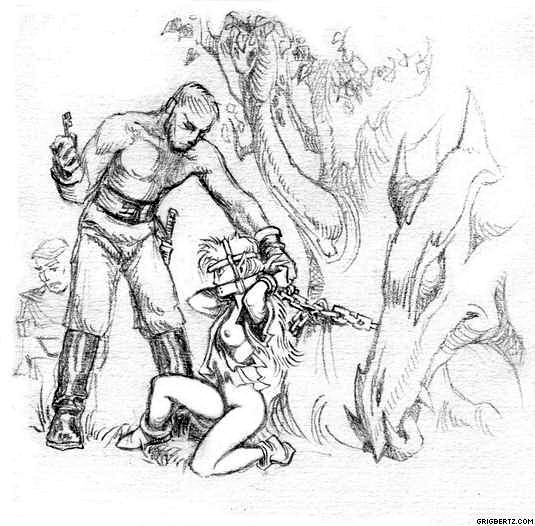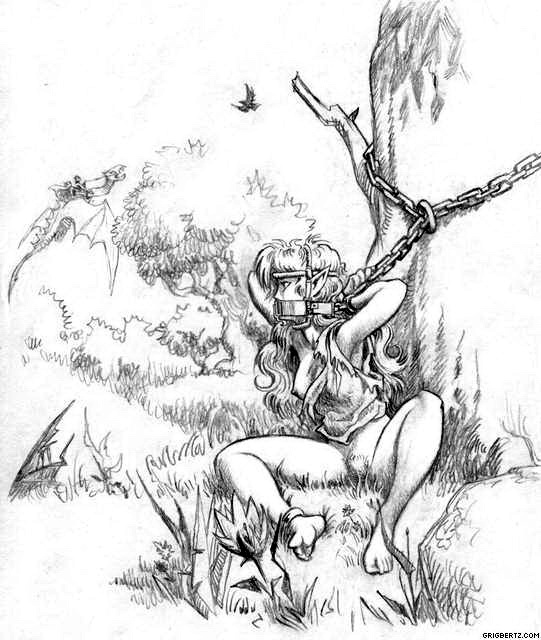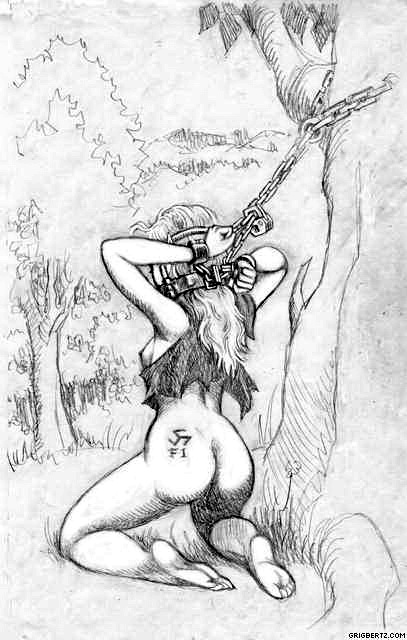 Some visitors to Torisia enjoy the thrill of the chase and are prepared to pay a premium for the opportunity to hunt and capture their slaves. Having been caught first by these two men, this girl will be left chained to the tree and collected after they have tracked down her companion. Of course, neither will have had any real chance of escape, for their wrists would have been cuffed to the rear of their combined collar and brank-gag before they were freed to run and hide. Even in the unlikely event of them evading their hunters, the first free man or woman to catch them will return them to their owner to collect a reward and the girls, after being punished for ruining the game, will simply be sent out to be hunted again. Wisely, this slave has not tried too hard to evade capture, knowing that the end result is inevitable. No doubt she hopes that the other girl is equally as sensible ...
WE TRUST THIS BRIEF INTRODUCTION TO "THE SLAVEGIRL EXPERIENCE" HAS BEEN OF INTEREST TO YOU.
FOR MORE DETAILS, INCLUDING TRANSPORT, ACCOMMODATION AND SLAVE GIRL RENTAL/PURCHASE PACKAGES, PLEASE CONTACT INTERPLANETARY TOURS DIRECTLY VIA SUB-ETHER COMMUNICATOR, OR ELECTRON BEAM VIDLINK.
WE WILL BE PLEASED TO ANSWER ANY QUESTIONS YOU MAY HAVE AND PUT TOGETHER A TOUR TO MATCH YOUR SPECIFIC REQUIREMENTS.
NOTE: Interplanetary Tours is a joint venture with "The Slavegirl Experience", under the auspices of the Governing Council of Torisia